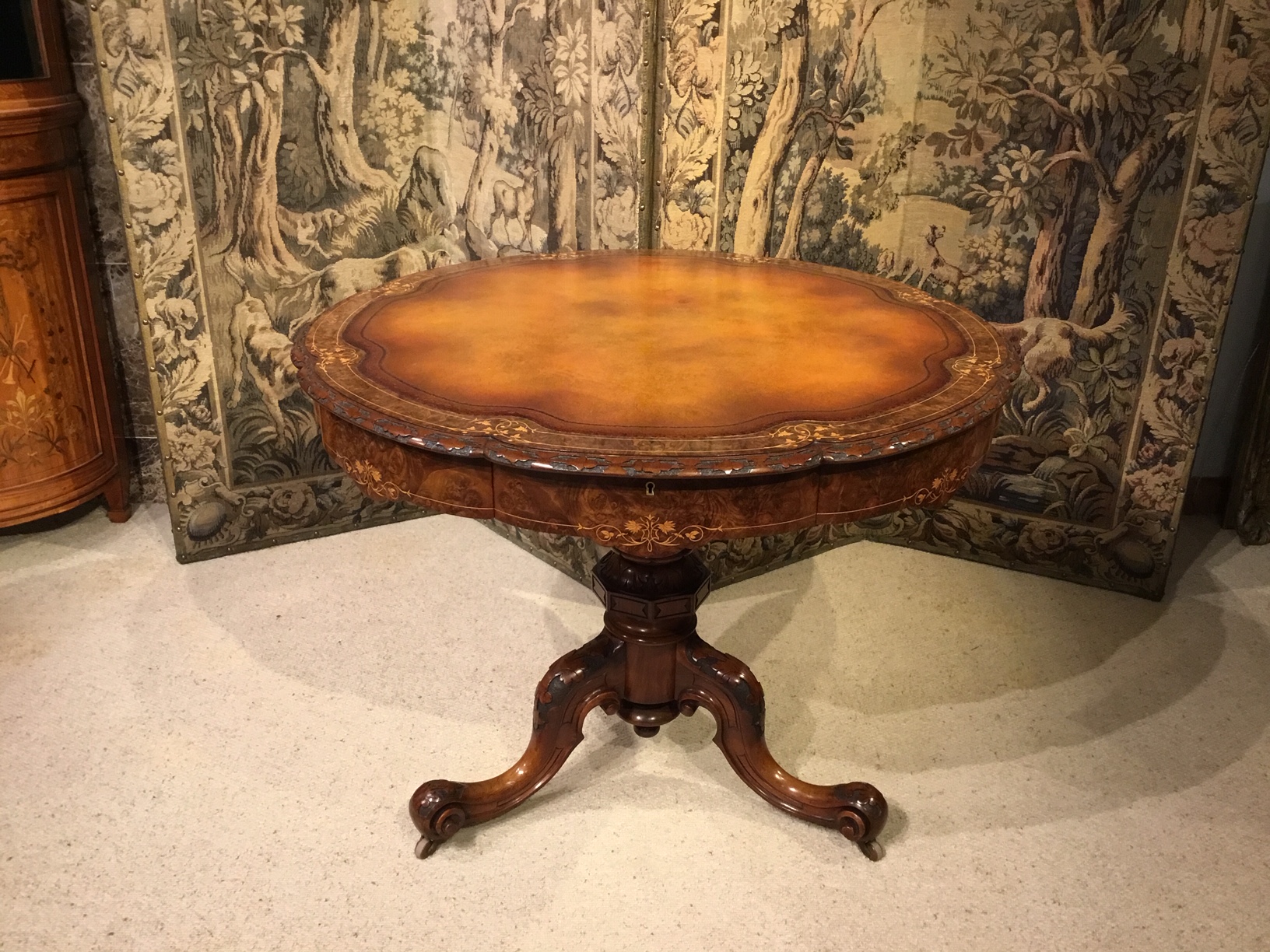 Were very popular in the 18th and 19th centuries as candlestands, tea tables, or small dining tables, although they were originally made for the popular card game called loo or lanterloo. Their typically round or oval tops have a tilting mechanism, which enables them to be stored out of the way (e.g., in room corners) when not in use. A further development in this direction was the "birdcage" table, the top of which could both revolve and tilt.
Were first introduced during the 18th century and were popular throughout the 19th century. Their main characteristic was a rectangular or oval top with folding or drop leaves on each side. Most examples have one or more drawers and four legs sometimes connected by stretchers. Their design meant they could easily be stored or moved about and conveniently opened for serving tea, dining, writing, or other occasional uses.
Are similar to Pembroke tables and usually have longer and narrower tops. They were specifically designed for placement directly in front of sofas for serving tea, writing, dining, or other convenient uses. Generally speaking, a sofa table is a tall, narrow table used behind a sofa to hold lamps or decorative objects.
were small tables designed to hold sewing materials and implements, providing a convenient work place for women who sewed. They appeared during the 18th century and were popular throughout the 19th century. Most examples have rectangular tops, sometimes with folding leaves, and usually one or more drawers fitted with partitions. Early examples typically have four legs, often standing on casters, while later examples sometimes have turned columns or other forms of support.
Are round tables introduced for writing, with drawers around the platform.
Are small tables typically placed beside couches or armchairs. Often lamps will be placed on an end table.
Are bounded tables on which billiards-type games are played. All provide a flat surface, usually composed of slate and covered with cloth, elevated above the ground.
Are a type of games table that integrates a chessboard.
Are used to play poker or other card games.