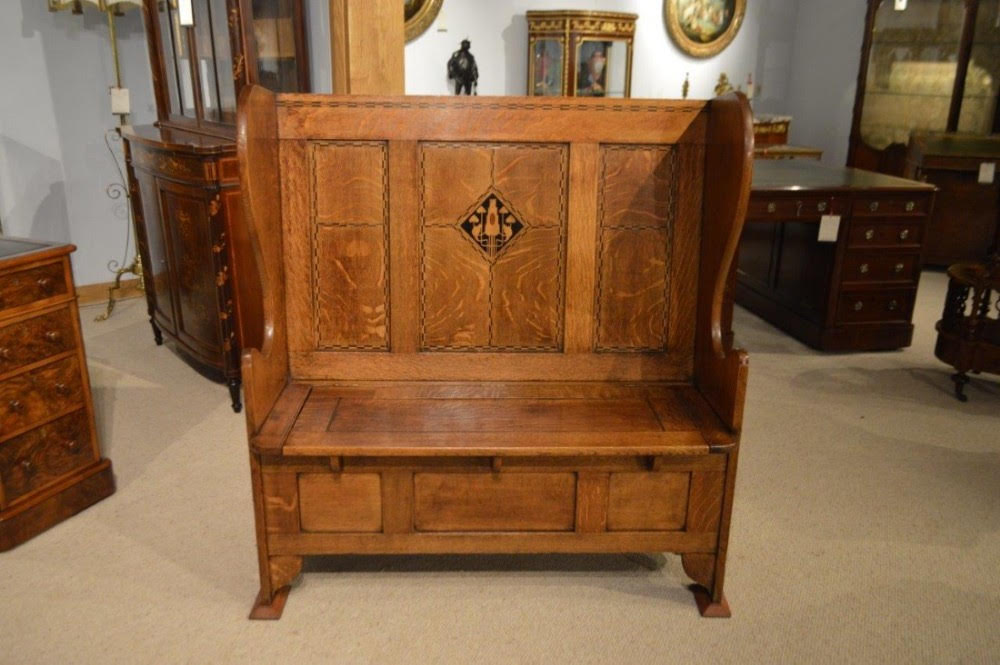 Shapland and Petter produced a wide range of furniture in the Arts and Crafts style designed to appeal to the growing market of middle class consumers who wanted tasteful homes and modern artistic furniture in the mid 1890's to 1900.
The design and decoration of their furniture followed the popular designers of the time such as M.H Baille Scott and C.F.A Voysey who continued to develop the arts and crafts style previously established by William Morris.
Shapland and Petter were influenced by designers such as Bruce Talbert, J.P Seddon and Charles Eastlake who designed a lot of furniture for the Lancashire cabinet makers Gillows in the 1870's. Some of the features relevant to their designs were as follows
1. Straight lines, long strap hinges and ring handles
2. Applied enamel plaques and painted panels
3. Revealed construction showing dovetails and tenons
4. Cut through work, piercing and repeated rows of spindles
5. Inset decorative panels and inscribed quotations or motto's, many of the motto's and quotations taken from relevant writers of the period and poets, such as "Reading maketh a full man", "welcome ever smiles" and "words are like leaves and were they most abound much fruit of sense beneath is rarely found".